Developed in Australia, the FreshViewTM EC12 Ripening Controller system is the latest proven robust technology to monitor, control, ripen, degreen, and store fruit and other perishable commodities. The modular design ensures simple installation and provides flexibility to expand to meet operational demands of small, medium and large fruit handling facilities.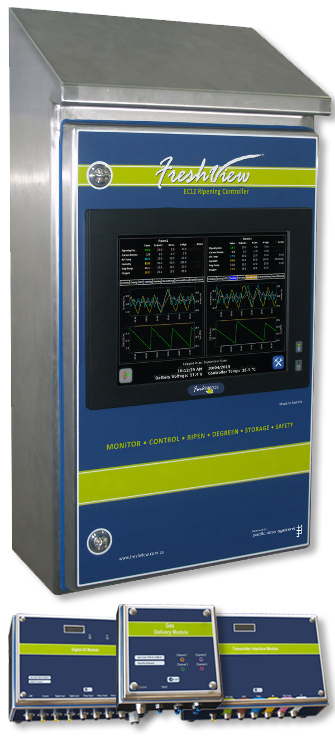 By automatically monitoring and controlling the concentration and levels of ethylene, carbon dioxide, temperature, relative humidity, pulp temperature, and oxygen, the FreshViewTM EC12 Ripening Controller system leads to a higher standard of presentation, longer shelf life and a more uniformly ripened, tastier piece of fruit.
System for ripening, degreening and storage
On-screen display of environmental conditions and system status
Monitor and control ethylene, CO2, temperature, relative humidity, pulp temperature, O2 and sub-systems
Remote access and control via the Internet for monitoring, control, system status, historical data and set-point adjustment
Monitor and control up to 12 rooms

This web portal allows for remote monitoring and control via an exclusive customer code, username and password login, providing the end user with 'round-the-clock peace of mind for their valuable produce.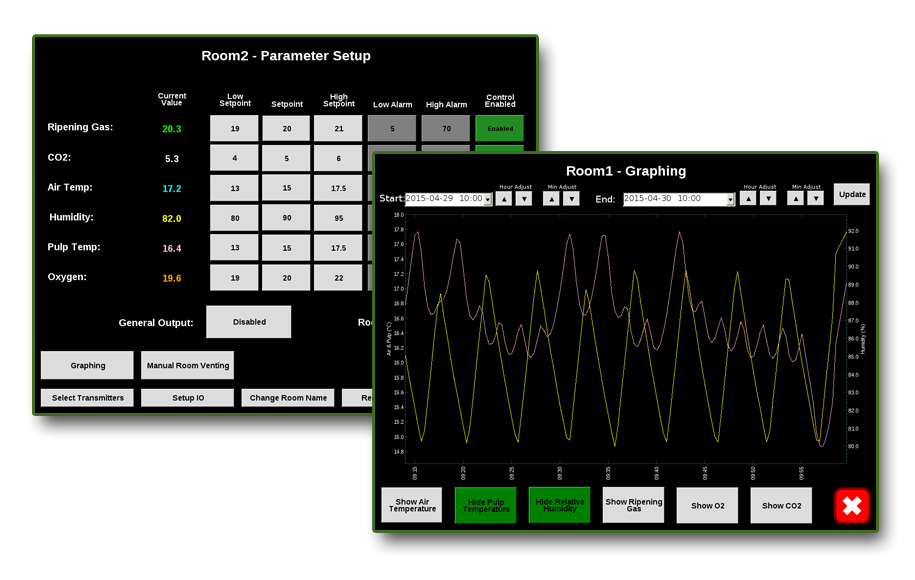 Looking for FreshViewTM transmitters only?
We also offer our range of high-quality, Australian-made FreshViewTM transmitters as standalone purchases, independent of the complete FreshViewTM EC12 system. This will enable you to integrate these with your existing monitoring system.
Please download the FreshViewTM Transmitters brochure here or contact us today to discuss your requirements.